Much more than winding goods - these technologies KUK masters as well
Just winding coils is usually not enough, further production steps are necessary until an equipment manufacturer obtains a functional component. KUK Group offers the entire package from coil production to the assembly of a complete motor from a single source. High flexibility and fast turnaround times are the biggest advantages for the customer.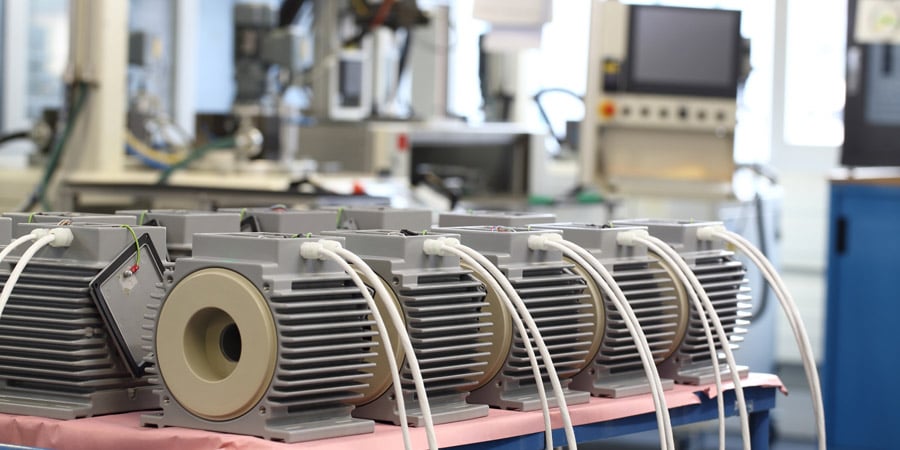 KUK Group has made a name primarily as a manufacturer of customer-specific solenoid coils in all dimensions, shapes and series sizes. A fact that is not so widely known: KUK not only manufactures coils, but also offers other services that result in making the day-to-day work of engineers and purchasers much easier.
"At the end of the day, we assemble coil, PCB and cable into a complete motor. This is KUK's great competence," states CEO Manuel Inauen.
As a system supplier, KUK is able to decide quickly on the entire manufacturing process without x partners being involved. The customer also benefits from KUK's established, global network of suppliers and thus from the best conditions. An equipment manufacturer, further away from its core business, also lacks the know-how in the procurement of certain individual parts.
One assembly more, many worries less
Starting with coil manufacturing up to the delivery of a complete assembly, KUK offers a high degree of in-house performance. This is especially true with regard to the in-house automation department, which ensures tailor-made automation along the entire production process. "KUK's process competence thus extends from support in the design phase, to procuring or creating components, winding coils, assembling and delivery," explains Inauen. The manufacturing and logistics concept takes into account all production sites of KUK Group, so that an optimal offer can be made to the customer in terms of quantities and delivery routes. And since KUK is in control of the entire process, the important decisions can also be made quickly together with the customer.
No production disruptions thanks to Modular Sourcing
There are very few third-party dependencies during the entire production of the assembly, which results in major advantages in terms of ramp-up, lead times, flexibility and delivery reliability. It is precisely the supply chain problems that have persisted for some time that show what the added value of Modular Sourcing is. "Especially in electronics, our customers would never be able to obtain many individual parts themselves within a useful period of time. This means that it is crucial for them to be able to purchase everything from a single source from KUK in order to prevent production disruptions," the KUK operations manager continues.

More flexibility instead of more complexity in supplier management
By procuring not only a coil but a complete assembly from KUK, only one contact person remains in case of component adaptations or design changes. This increases flexibility for buyers or developers: they do not have to negotiate with several suppliers who have different individual interests and business policies. Modular Sourcing at KUK thus reduces complexity enormously.
Coil manufacturer KUK as an established supplier of coil assemblies
KUK Group has established an excellent reputation in medical technology, automotive and equipment industry as a supplier of complete assemblies. In addition to the high level of competence in coil manufacturing, for example, the potting and assembly into stators or complete motors is also highly valued by customers. This applies, for example, to linear motors, bearingless pumps or medical technology sensors.
In many cases, a system partnership grows step by step, with winding goods obviously at the centre. For example, the now long-term and successful cooperation between KUK Group and a large automotive supplier began with coil winding. Over the years, the partnership has become more and more intensive, so that in the meantime cable welding, potting and the test process of a stator have also been added. This assembly is largely manufactured on a highly automated line developed in-house.
"KUK regularly contributes process ideas that serve to reduce cycle times and ensure delivery capability. Too often, attention is focused isolated on individual production steps. Whereas if one takes advantage of these capabilities and combines work steps, there is still a lot of potential for improvement," concludes Manuel Inauen.