Tailor-made automation for customer-specific coil production
At KUK Group, customer-specific coils and electronic assemblies are largely produced on automated plants developed in-house. This means that we can offer you a very attractive coil production process in terms of quality and commerce, tailored to your volume and technical specifications.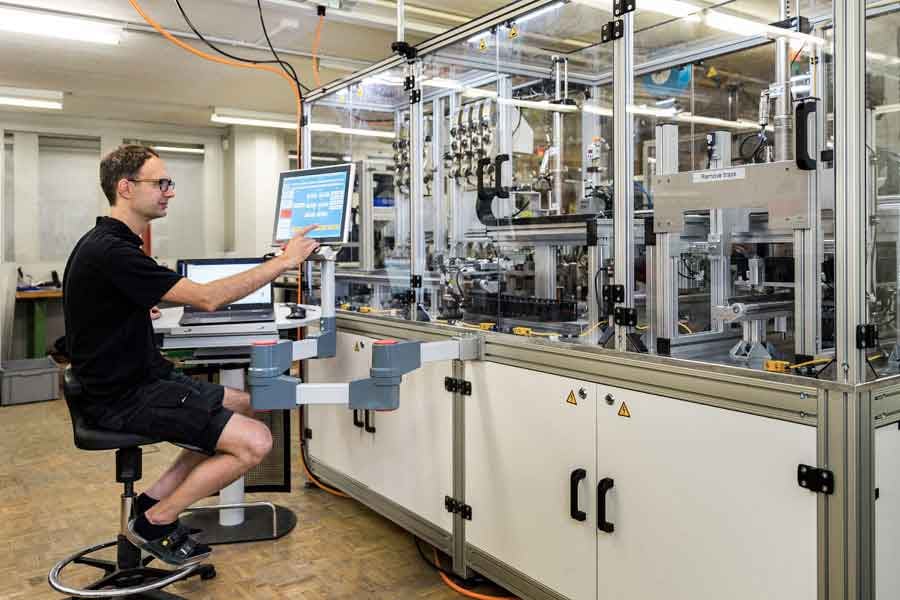 As a customer, you benefit in several ways from KUK's internal plant engineering:
Tailor-made line for your customer-specific product
No dependence on external machine suppliers
Optimised plant and tool investments
Rapid implementation of series production
In-house process know-how
Simple scalability
And this is how a customised plant for coil manufacturing is created step by step: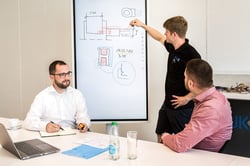 Consulting
At the beginning of a successful production process is an analysis of product requirements and customer needs. Depending on this, we determine the best possible production variant. Here you can count on our many years of experience in automation. Since its foundation in 1990, KUK Group has been manufacturing on systems developed in-house.
Tailor-made concept
Based on the specification and volume planning, a detailed concept is developed for the line with which we will manufacture your product. Quality and process stability already play an essential role in this development step. For specific needs in your industry, we also carry out an FMEA (Failure Mode and Effects Analysis).
Technical planning
After the concept has been checked and approved by the KUK quality department, the individual plant components are designed in CAD. In the process, we rely on modular construction: Proven modules are reused and new modules are integrated in a risk-based approach. Our planning know-how combined with in-house assembly enables a fast ramp-up of series production.
Tools/parts
KUK Group has its own resources for the crucial components. Thanks to our in-house workshop, we are independent of the availability of critical parts on the world market and, in turn, one step faster when it comes to getting your coils into series production on time.
Assembly
In this stage, the manufacturing line for your product is taking more shape day by day. The same experts who have already created the CAD design are now also entrusted with the assembly. This is priceless, as the plant engineers already know from the technical planning where you can expect the most demanding sections, which ultimately guarantee qualitative and commercial success. We are happy to pass this advantage on to you!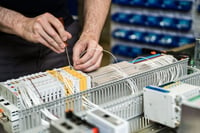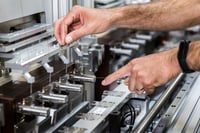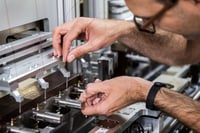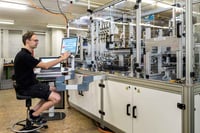 Software/control
KUK's internal automation engineering is not only convincing mechanically: the unique competence is rounded off by profound know-how in the control of our winding machines. The software is modularly designed so that customer's modification requests can be quickly implemented even during series production. This results in a gain in time and flexibility for you in this step as well.

Launching
As soon as assembly and control have been completed, we start the step-by-step commissioning of the system. Highest quality and process stability are our standards, on which you can rely. The line is started up product-specifically and its functionality is checked and documented according to customer requirements. Only once you, the customer, is satisfied with your product and the internal acceptance has been successful, do we release the machine for series production.
Transfer for production
An automated system is always manufactured with Swiss know-how and can be transferred to any of our global sites after a successful run-in phase. The consistent internal processes enable a seamless and friction-free transition to series production, regardless of the defined production locations. Of course, the introduction of production is permanently accompanied by the development and quality department. KUK Group thus offers you not only a customised system, but also global sourcing tailored to your needs in order to keep delivery times and delivery routes short.
Scalability
Not every product is immediately produced in quantities of several 100,000 or even millions. KUK Group is the optimal supplier to grow with your success. Why? In order to keep investment costs low, different variants of semi-automatic and fully automatic lines are possible. In the event of increased demand, we are quickly able to increase capacity through a higher degree of automation or duplication of the machines and, depending on the situation, also expand to other production sites in Europe, Asia or Africa.
Tailor-made automation for customer-specific coil production in any series size
Rely on our experience: KUK Group's internal plant engineering guarantees a high-quality series production and short time to market for coil manufacturing. We have enormous know-how throughout the entire production process, allowing us to find the best solution for you together.
In the overall package with the products manufactured with us, we offer an extremely attractive price-performance ratio.
The investment costs are noticeably lower because the system is customised to your product. At the same time, there is no dependence on other suppliers. As a leading manufacturer of coils and electronics, KUK also enables rapid scaling, so that we can serve your global supply chain across multiple locations without much lead time.