These are the areas in which microcoils are generating major innovations
Innovations in medical technology are not least related to advances in coil manufacturing. The micro coils or sensors required for many medical technology applications are becoming increasingly powerful, while at the same time requiring less space.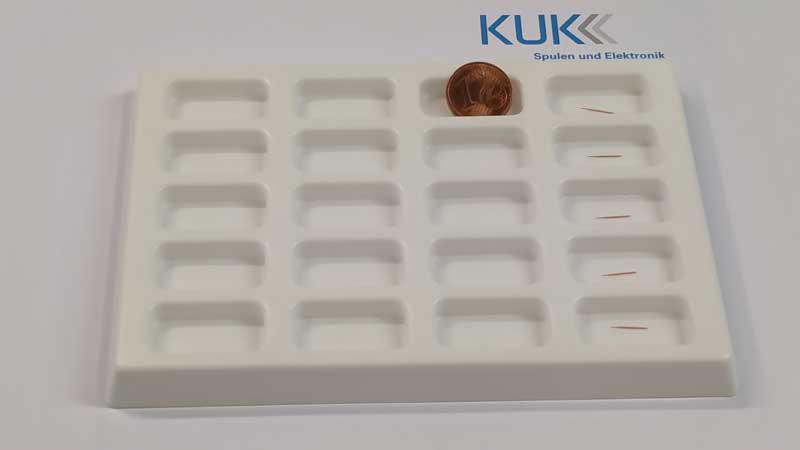 Leading manufacturers of micro coils, such as the globally active KUK Group, have succeeded in producing micro coils for mass-produced applications that were unthinkable just a few years ago. We are talking here about micro coils with ultra-fine wire of 0.010 mm diameter (pure copper), which have proven their worth in highly sensitive medical technology applications. With windings directly on magnetic cores, the minimum diameter of the micro coils is thus only 0.3 mm. There is also flexibility in terms of core material, so that the optimum variant can be selected for the specific application, including micro coils with ferrite, mu-metal or amorphous core material. In addition, developers of medical technology benefit not only from new possibilities in coil winding itself, but also in the equally challenging contacting to other components, such as a printed circuit board. The reduced dimensions of micro coils are driving the ongoing trend towards miniaturisation in medical technology and thus opening up great innovation potential for developers of coils for Implanted Medical Devices (IMD) and beyond.
Applications of miniature coils in medical technology
Diagnostic applications: wireless communication with miniature implants that act as sensors, whether for physiology (blood pressure, heartbeat), blood glucose levels or blood flow (blood, respiration).

Active implants: Monitoring/control of implanted miniature pacemakers or deep brain stimulation components in implanted devices for pain management

Therapeutic applications: Terminal devices in electrophysiological treatments (heart, nerves, brain) or current-based ablations (microwaves and RF)

Navigation and orientation applications: targeted drug delivery, targeted radiation catheters, stent placement, high precision ablations, implanted markers, inter-body tagging as well as endoscopic, gastroscopic, colonoscopic, laproscopic, bronchoscopic and other similar procedures

Hearing aids: connection of the miniature coil with an operating system on a printed circuit board

Temperature measurement applications