What material can coils be wound from?
In coil production, the wire used plays a central role. While copper is undoubtedly the most commonly used conductor material, especially for customer-specific coil projects, it is also worthwhile to test alternative coil wire, depending on the application.

In this article, we focus on the wide range of materials available for coil windings. Each material brings different properties that affect weight, strength, flexibility, thermal/electrical conductivity and, of course, the cost of coil production.
Copper
Copper is the most common of the electrically conductive wires and is most often used for solenoid coils. It has a low electrical resistance and allows current to flow easily. In terms of conductivity, it is only surpassed by silver - apart from superconductors. Aluminium ranks a distant fourth in the conductivity table, even behind gold.
An important factor for the use of copper is that it can be configured and shaped to create any type of coil. Incidentally, copper is not only known as the most common material for coil wire, but is also used in the production of printed circuit boards.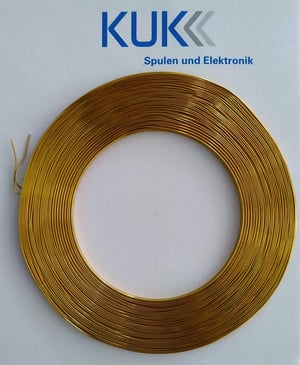 Aluminium
If aluminium is chosen for coil manufacturing, it is usually for weight or cost reasons. The price of aluminium is often significantly lower than that of copper. Aluminium is very strong, soft and therefore easy to shape. It has a high conductivity for heat and electric current (but in this respect much worse than copper). When exposed to air, the base metal is covered with a thin, transparent oxide layer that protects the underlying metal from further corrosion. Its light weight enables efficient acceleration of the moving parts, which improves performance.
The use of aluminium wires improves the sound quality of speakers and voice coils. A disadvantage of aluminium is the limited contacting possibilities. Apart from laser welding, no other welding process is possible. Consequently, mechanical methods such as insulation displacement contacts, crimping or bonding must be used.
Silver
Silver is one of the most common conductive metals. It has the highest electrical conductivity of all metals. The reason why silver is not used more often than copper in coil manufacturing is because it is less abundant and correspondingly more expensive. It is also susceptible to oxidation.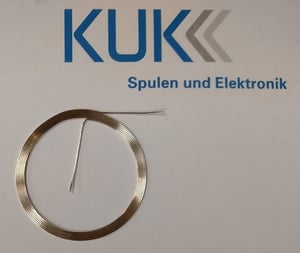 Gold
Gold is ductile and malleable, making it easier to form into wire. It is a soft metal and can be configured for small electronic circuits and coils. Since gold does not react easily with other elements and is resistant to corrosion and tarnishing, it is an excellent conductive material for coil production. This is even more true for contacting with surrounding components due to its very low contact resistance. The disadvantage is, as you might guess, the high cost and limited availability of gold. From a mechanical point of view, the high weight must also be taken into account; gold is one of the heaviest metals of all.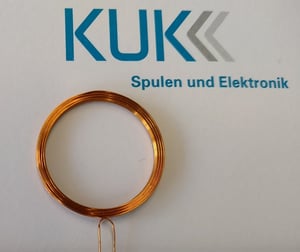 Copper clad aluminium (CCA): The trend material in coil manufacturing
As the most common alternative to copper or aluminium wire, a combination of these very metals has established itself for coil manufacturing. Copper clad aluminium, known as CCA wire, is lighter than pure copper wire due to its low density. However, the tensile strength of CCA wire is also lower than that of pure copper wire. There may also be transmission errors in the construction. CCA is made by bonding a layer of pure copper to an aluminium core. When drawn, CCA naturally contains less copper than pure copper wire, but offers almost the same conductivity, only the resistance is slightly higher. How is this possible? It has to do with an electrical phenomenon called the "skin effect". The skin effect is the tendency of high-frequency alternating current to distribute itself in the conductor, so that the current density is higher near the conductor surface (or skin). Since the skin effect only occurs at high frequencies, CCA wire is particularly suitable for such applications. For the manufacture of winding goods, CCA wire is equally relevant because of the combination of the weight advantage (aluminium) with the good weldability and solderability of copper.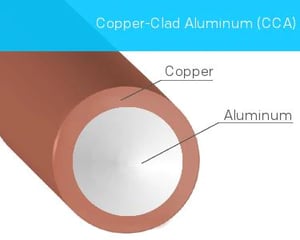 High-strength alloys as conductive material in coil production
Among the multitude of available copper alloys, some also play a noteworthy role in coil production. The so-called "high-strength alloys" are mainly used because of their higher breaking strength compared to pure copper. They also have higher tensile stress and elongation values. The HTW and XHTW wires from supplier Elektrisola can be an interesting option especially for applications such as loudspeakers, headphones, vibration motors or micromotors, as well as in the aerospace industry or consumer electronics in general.
Rarely used conductor material in coil manufacturing
Wires made of the following materials are rarely used in coil production:
Carbon
Carbon wire is cheaper to produce and suppresses radio frequency interference (RFI) and electromagnetic interference (EMI). It is used in vehicle construction and as replacement wire.
Manganin
Manganin is an alloy consisting of copper, manganese and nickel. Manganin, also called constantin, has very little change in resistance with temperature fluctuations, is very resistant to heat corrosion and has high long-term stability.
Titanium
Titanium has good mechanical and physical properties. It is acid resistant and easy to configure, fabricate and weld. The corrosion resistance of titanium wire has made it a major component in the aerospace, chemical processing and medical industries.
Nickel-Chromium
Nickel-chromium wire is made of nickel, chromium and iron. It is tough and resistant to oxidation and has good ductility and weldability. The different types of nichrome have a number designation that indicates the amount of nickel they contain. The types of nichrome are nichrome 20, 30, 40, 60, 70 and 80. The operating temperature of nichrome varies between 1050° C and 1180° C.
Kanthal
Kanthal is an alloy of iron-chromium-aluminium (FeCrAl) and is used in resistance and high-temperature applications. It forms a protective layer of aluminium oxide that serves as both a heat conductor and insulator. Kanthal has an extremely high melting temperature of 1425° C.
Nickel
Nickel wire heats up quickly and has a very low resistance. Unfortunately, nickel wire melts easily at high temperatures and can therefore only be used in temperature-controlled applications.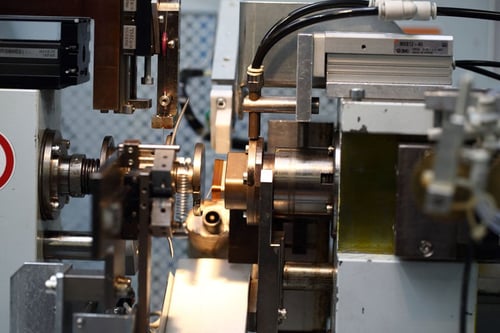 Conclusion regarding the most suitable wire material in the manufacture of solenoid coils
Copper is and remains the most common material in coil manufacturing, but depending on the intended use, required performance or target price, it is also worthwhile to test alternative wire materials. Over the past few years, aluminium or copper-clad aluminium (CCA wire) in particular have established themselves as widespread options for coil production.