The 1x1 of coil manufacturing
Coils play a crucial role in electrical engineering, finding various applications in transformers, relays, and electric motors. However, coil production involves several factors that make it challenging to manage.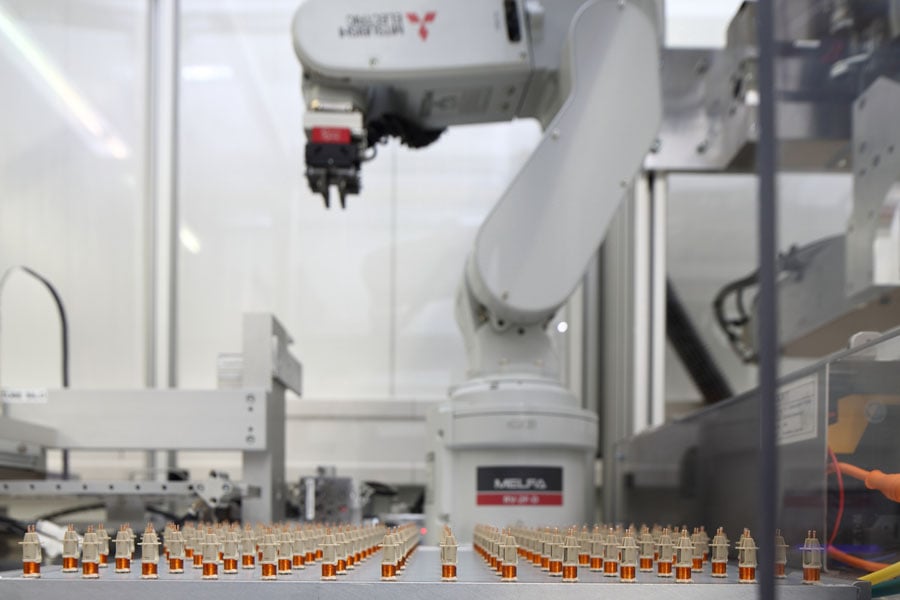 Customer-specific coil production depends on a wide variety of factors that go far beyond the coil itself.
When selecting a coil manufacturer, it should therefore be noted that not only precise coil production is guaranteed - but also what consulting services the coil supplier offers in terms of feasibility and readiness for series production, and whether additional value-added steps can be ordered from a single source.
In this article we have compiled the most relevant information on coil production for you in a compact form.
Learn more here:
How coils are made

What winding processes there are

What the type of coil used depends

What points are important when choosing the right coil manufacturer
How are coils made?
Every custom-made coil starts with a drawing and an engineering layout. While the drawing describes the dimensions and tolerances with regard to the coil to be manufactured, the technical design contains details on the electrical values, the number of turns, the manufacture with or without core or with or without bobbin.
The winding processes in coil manufacturing
The coil winding technique creates a geometric structure of one or more turns, which then generates a defined magnetic field. Depending on the type and geometry, the winding technique is divided into different groups:
Linear winding: In linear winding, the coil to be wound is set in rotation and the wire is wound around the rotating bobbin. The rotation of the coil bobbin and the feed of the wire guide create a linear laying movement that distributes the wire in the corresponding winding space.
The linear winding technique can be applied to several coils simultaneously by means of multi-spindle winding machines, which makes the process exceedingly economical.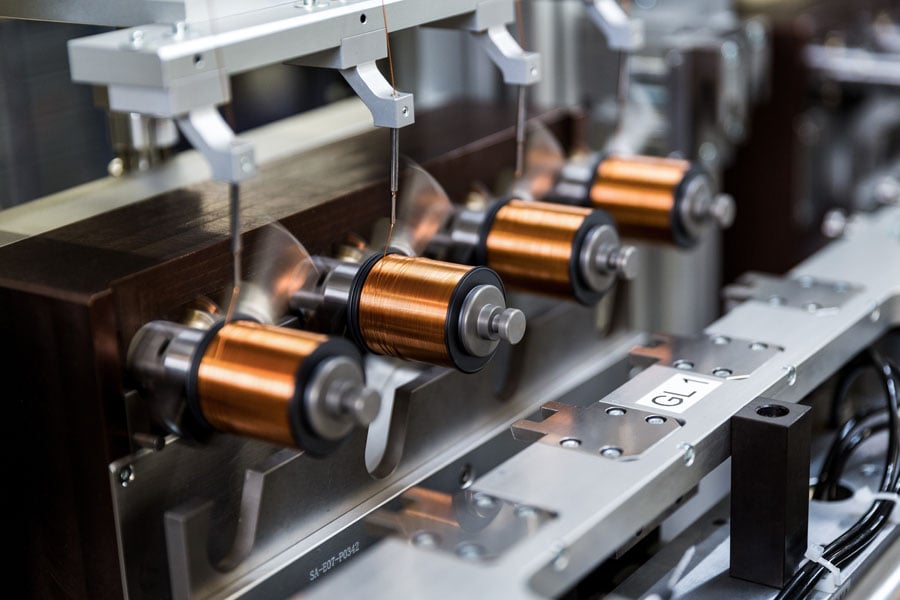 Needle winding: Needle winding technology is used for winding electronically commutated multi-pole three-phase motors. In needle winding, a needle fitted with a nozzle travels past the motor's stator packs in a reciprocating motion to deposit the wire through the slot of the two adjacent poles. The needle carrier is usually coupled with a CNC coordinate system so that spatial travel is possible.
Flyer winding: In flyer winding technology, the coil winding is created by feeding the wire by means of a reel located on a rotating disc, the flyer. The wire is fed via the shaft of the flyer. The component to be wound does not need to make any movements, so that flyer winding can also be used to create very bulky or bulky coils.
Toroidal core winding: In toroidal core winding, the ring core is first stretched. An orbital ring, also called a wire storage ring, is then inserted into the centre of the toroid. Wire is then wound onto the wire storage ring and its end is attached to the toroid. Both elements are now set in rotation at the same time, creating the winding.
Toroidal core winding is comparatively expensive due to the high proportion of manual work, but is frequently used due to a low magnetic leakage flux and a very good power density.
Trickle winding: Trickle winding is a rare special case with a high proportion of manual work.
Peripheral processes in coil manufacturing
Of course, in coil production it is not just a matter of selecting the appropriate winding process! Rather, it is important to accompany the entire product development from A-Z. This is the only way to ensure that all production aspects have been taken into account at the start of series production:
Design of the coil formers

Selection of the required assembly parts

Connection technology / contacting process

Electronic components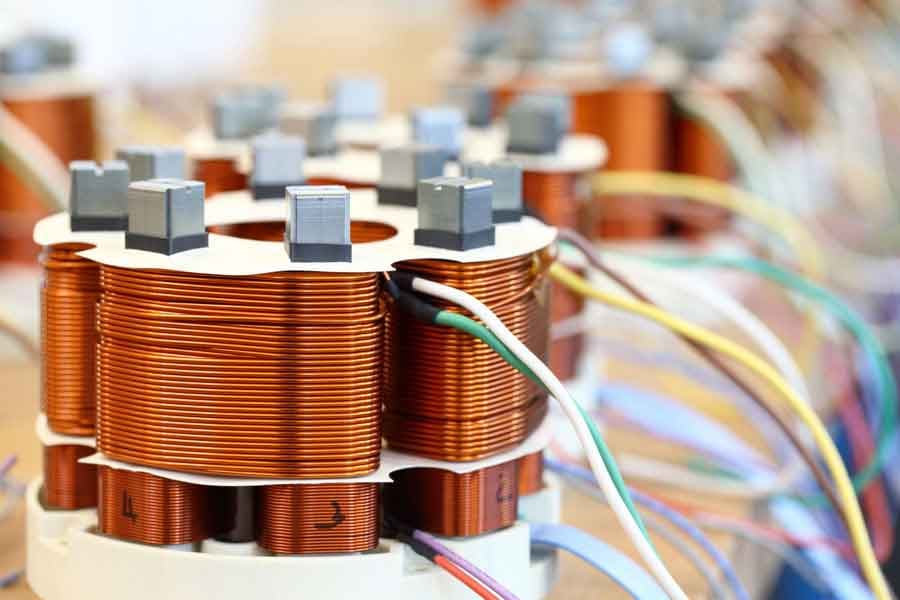 Automating production processes
For economical production of coils, speed, easy scalability and reliable processes are essential. With production lines individually adapted to a product, coils can be manufactured in a high-quality manner on the one hand, and in a commercially exceedingly attractive manner on the other.
What does the type of coil used depend on?
Each coil has a very specific purpose, and the variants available on the market are correspondingly versatile. Which coil type is the most suitable for a project depends, among other things, on:
The further processing of the coil

Downstream assembly processes (for example, coils and electronics as a wired and assembled unit)

Further value-adding steps

Intended use: In which industry, device or component will the coil be used?

Material of the coil body (plastic/ferrite) and the conductor material (copper wire/alternatives)
Important points when choosing a coil manufacturer
As one realises, every coil is a small marvel of engineering. Accordingly, the manufacture of coils requires an experienced specialist company that not only masters the production of the coils, but above all convinces with experience, know-how and innovative strength. When selecting a suitable coil supplier, the following points must be taken into account:
Consultancy: A newly designed coil must be able to be mass-produced as quickly and automatically as possible in order to meet the economic requirements for the product. A coil manufacturer should therefore offer comprehensive consulting services already in the early stages of a coil development, so that a prototype becomes a product ready for series production as soon as possible.
Quality: Certifications in the areas of quality management should be considered a basic requirement when choosing a coil manufacturer.
Practicability: A coil must make sense both technically and commercially. Therefore, a coil supplier should bring its expertise to product development.
Process stability: The coil manufacturer must be able to guarantee the required quality, downstream production and reliable documentation, even at higher volumes.
Global Sourcing: Customer proximity is more important than ever in times of strained supply chains. A coil supplier with a presence on at least two continents can enable reliable delivery of products even in the event of logistical bottlenecks.
Services from a single source: For supply chains without escalating complexity and thus significant time savings, it is advantageous if a coil manufacturer offers several manufacturing steps, for example the assembly of complete assemblies, from a single source.
Automation: Automated manufacturing processes are reliable, precise and economical. A coil supplier that designs and builds customised automation solutions offers significant advantages in terms of cost, flexibility, scalability and implementation time in coil production.
Price: Last but not least, a coil must be economically producible. Larger coil producers can not only offer attractive graduated prices for higher production batches, but also usually offer manufacturing alternatives for products with a high proportion of manual labour in countries with lower wage levels.
Innovative strength: A coil manufacturer should be able to implement even absolutely special cases. A high degree of automation in production and successfully implemented, digital processes in manufacturing are key indicators of a manufacturer's innovative strength in the field of coil production.
Conclusion
In coil production, diversity is everyday life. A wide variety of winding processes, coil types and materials for the coil formers make it difficult to keep track of everything. This makes it all the more important to have a customer-specific coil manufacturer at your side who has specialist knowledge and expertise that goes far beyond pure coil production.
When it comes to bringing a newly developed coil to market quickly, with technical maturity and a high chance of commercial success, "soft skills" such as consulting services or the taking on additional assembly steps are the decisive competitive advantage in coil manufacturing.