Self-supported coils: Facts about coils made of selfbonding wire
Self-supported coils are coils made of wire that is coated with a thermoplastic layer - the bonding varnish. The term selfbonding enamel wire already indicates it: This wire is bonded during the winding process to give the coil the necessary stability without any other aids, especially in the case of air coils. The use of selfbonding wire can offer advantages over a bobbin coil in some cases, since coil formers as well as adhesive tapes or lacquering steps are not required.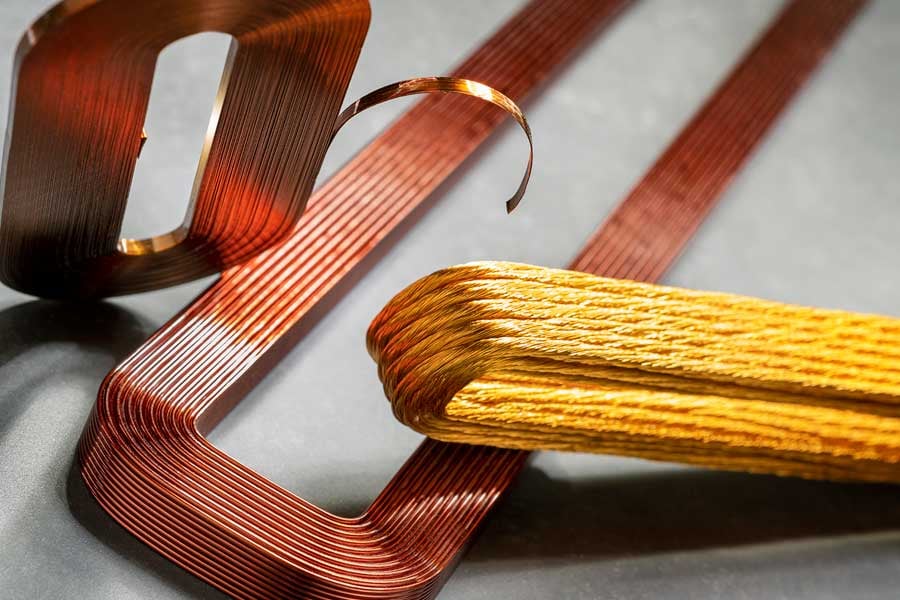 There are many types of coils and even experienced engineers sometimes lose track of which types of coils exist and which coils are suitable for which applications. In a new series, KUK provides an overview with the most important info on coil production.

Let's start with self-bonding coils, sometimes also called self-supporting coils. What is it all about? Self-bonding coils are coils that are wound with self-bonding wire. Self-bonding enamelled wire (or bondable magnet wire), is a wire with an additional coating to the usual insulating layer. By activating the self-bonding enamel during the bonding process, it is possible to connect adjacent windings with each other. The activation of the baking lacquer can be done either by heat, in some cases by solvent or by a combination of both.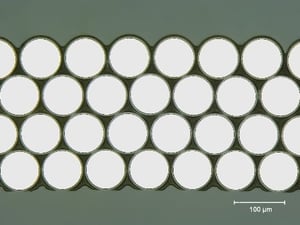 Cross-section of a wound self-bonding coil (light grey = insulation, dark grey = bonding enamel layer). Image source: Elektrisola
Advantages of selfbonding wire
The use of self bonding wire offers several advantages to the customer:
No coil former required
No adhesive tapes or impregnating varnishes are required for fixation
Less handling during the manufacturing process
Low environmental impact
Enables air core coils in special shapes
Shape stability even with shock and vibration
Reduced overall cycle times
This is what you as an engineer have to consider for self-bonding coils
The bondcoat adhesive, supplementary to the insulation, takes up additional space and must be taken into account when calculating your solenoid. Although bonding adhesives can be added to any conventional insulation layer, the resoftening temperature of the adhesive should be considered. Depending on the bonding process and coil type, it also limits the temperature resistance of coil bodies or other materials.
Contacting of self-bonding coils
Self-bonding coils are usually air core coils, which are therefore manufactured with flying wire ends. The ends get just tinned for further processing. This often involves a soldering process, for example to a printed circuit board. For thin wires, a thermobonding process is also possible. Depending on the temperature resistance of the bondcoat layer, the tinning of the end wires can be done directly, i.e. without stripping the bonding and insulation enamel. Bondable magnet wires with high temperature resistance can be stripped mechanically, chemically in a salt bath or by laser.
In the very rare case that self-bonding wire is wound on a bobbin, the contacting depends strongly on the properties of the respective coil former. KUK can advise you on the contacting of your self-supported coil.
What are the limits of self-bonding coils?
From the point of view of a coil manufacturer, many things are possible in the production of self-bonding coils. Countless special shapes such as bends over the entire coil, bent ends or conical courses can be realised. Also with regard to wire, different cross-sections (flat wire, edgewise) are possible. Particularly space-saving are self-supported coils as alpha coil (KUK patent coil) with start and end wire on the outer diameter. Cylindrical shapes, which correspond to a standard design, normally require the least manufacturing effort and are therefore advantageous in terms of cost. Likewise, selfbonding enamelled wire is suitable for orthocyclic windings. For the development phase, it is essential that the most necessary specifications are available so that any trade-offs can be quickly clarified in co-engineering with the coil manufacturer.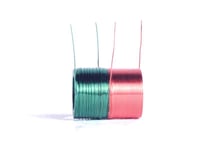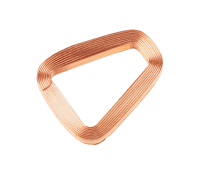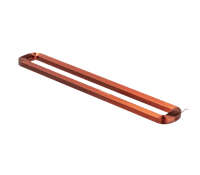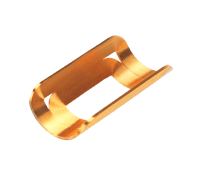 Disadvantage of self-bonding coils
The disadvantage of self-bonding air coils is related to the flying wire ends, which prevent subsequent automated processing. Due to the costs of a coil former or the associated tool investments, this circumstance only plays a role from a series size of around 10,000 pieces. In such cases, a trade-off has to be made between space requirements, investment in a coil former and a shorter cycle time due to a higher degree of automation. The limit of 10,000 pieces should be seen as a rule of thumb; it ultimately depends on the individual project requirements. For example, depending on the required coil shape, it may make sense to produce much higher series sizes as self-bonding coils. On the other hand, 3D printing is increasingly opening up new possibilities in the production of coil formers, which makes this option conceivable for smaller series as well.
Bonding process: Four common methods in the production of self-bonding coils
1. Hot-air bonding
Hot air baking during winding has the advantage that a downstream bonding process is not necessary. Hot air bonding is cost-effective and is mainly used for wire diameters below 0.200 mm.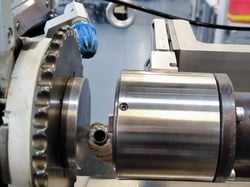 2. Oven bonding
After the coils are wound, the unit is heated in an oven, which melts the baking varnish and bonds the adjacent turns of wire together.
3. Resistance bonding
Resistance bonding is similar to oven bonding except that heat is generated by current flow through the formed coils. The time, voltage and amperage depend on the application.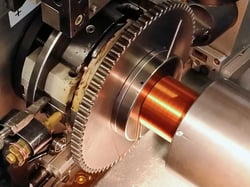 4. Solvent bonding
Some bondcoat enamels can be activated by the application of certain solvents during or after coil winding. The solvent can be applied to the wire via a wick during the winding process, or the finished coils can be immersed in a solvent bath after winding. In either case, the unit should be heated again to remove the remaining solvent and complete the bonding of the coils.
Applications of self-bonding coils
Self-bonding coils are practical when space is limited in an application and there is no way to fit a bobbin. On the other hand, there are also cases where winding a bondable magnet wire on a bobbin is useful. Self-bonding coils also serve to bring the winding as close as possible to the metal in the circuit, which gives them greater magnetic capabilities.

Self-bonding coils are used, among other things, for applications in medical technology or in the military, where as much copper as possible must be used in the smallest possible space, in order to increase the performance of a linear motor, for example. Furthermore, baked varnish coils are found in sensors, in drive coils of motors, in RFID applications, in magnetic locks as well as in audio and frequency isolation circuits. Self-supported coils are also widely used for high frequency tuning, interference suppression and high saturation inverter chokes.
Which selfbonding enamelled wiree and bonding method for your application?
Self-bonding wires can be differentiated by the chemical basis of their coating, but mainly by their thermal and technical properties as well as by the preferred bonding process. KUK or a wire manufacturer such as Elektrisola can provide individual advice here.
Conclusion
The decision whether or not to use a self-bonding coil depends on the project; for many coils, this decision is likely to be influenced by the space required to finish the component and the quantities required. The choice for a self-bonding coil usually results in lower costs and shorter process times for smaller quantities:
Eliminating multiple steps means no more costs for coilformers and secondary coatings or tapes.
Eliminating multiple process steps saves drying time, which allows for faster integration into the production line.
The use, storage and disposal of certain volatile organic compounds (VOCs) is eliminated.
On the other hand, the additional assembly effort due to the flying wire ends must be taken into account for higher series sizes. As a rule of thumb, this applies to quantities of around 10,000 or more self-bonding air coils.
The above analyses are average findings and not definitive for each individual project. It is always best to discuss specifications and requirements with a custom coil manufacturer such as KUK Group. You may have a design or specific application that requires a self-bonding coil or self-supporting coil to either achieve a desired shape or achieve a small form factor. KUK will be happy to advise you.
Related sources:
Elektrisola
Furukawa